GET A QUOTE NOW:
Everything You need to know About your Dishwasher Repair
FAQs on Fixing Dishwasher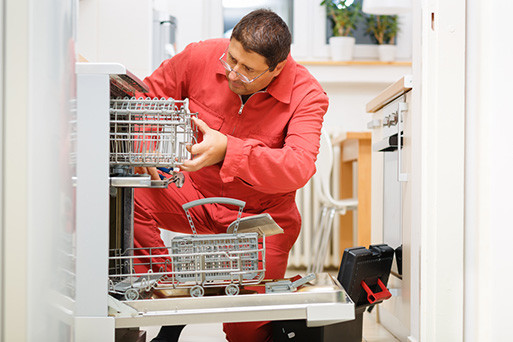 Your dishwasher not only cleans your dishes but also ensures that they are sanitized. Without the use of your dishwasher, you will spend hours hunched over the sink. When you need urgent dishwasher repairs, you might have some questions. Here are some commonly asked questions and answers you will find handy.
Q: How long does it takes to repair my dishwasher?
A: We always dispatch our Ottawa technicians as quickly as humanly possible, and depending upon how early or how late in the day it is when you call for help, we'll either be able to come out and assist right away – and fix the problem before the end of that day – will come out the next morning and have your issues solved before that day is over.
Q: Is it hard to fix a dishwasher?
A: YouTube and online tutorials have definitely made the idea of DIY fixes for dishwashers and other appliances a lot more attractive to your everyday homeowner, but at the end of the day the odds are good you won't have the tools, the knowledge, or the specialized expertise necessary to diagnose any and all of the issues your dishwasher is plagued with or really understand how to fix them so that these problems don't occur later down the line. We are happy to help!
Q: Why is water leaking from my dishwasher?
A: Your dishwasher needs water to get all those dishes clean. If you see water leaking from this appliance, it could be something as simple as a worn or loose hose. If this is not the case, a technician will be able to locate and repair the problem.
Q: Why is my dishwasher making weird noises?
A: Many noises are normal when it comes to your dishwasher. If you notice a particularly loud sound or strange noise, There could be a mechanical problem or there could be some debris (like a piece of a broken dish) moving around and making a lot of noise. If your dishwasher seems to be completely clean and the sprayer arms are not touching other parts of the dishwasher or any dishes, call your local expert.
Q: Can I fix my dishwasher myself?
A: Some minor problems like a loose or broken hose could be considered a DIY job. However, when it comes to mechanical or electronic repairs, it is best to call in the professionals. Not only because they work that much faster, but also because you will enjoy a guarantee on their work.

Home Appliances Brands We Repair
Our team can work on any appliance from any of the major brands. From Miele and Inglis to Bosch and AEG, we can work on it. Here are the appliance brands we can repair:
Testimonials From Our Customers