GET A QUOTE NOW:
---
Everything You need to know About your Oven Repair
Oven Repair FAQs
Like your stove, your oven is another essential part of your kitchen. If you notice any problems with your oven, you should call a technician right away. Here are some common oven repair questions and answers.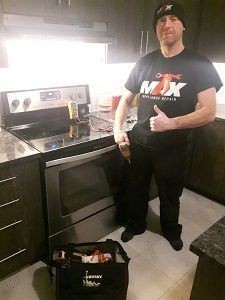 Q: Why did my oven suddenly not turning on?
A: Electric ovens rely on electricity in order to function. Check the power supply before you call a technician. There might be nothing wrong with your oven if you are simply experiencing a power outage.
Q: Why is my oven giving off a weird smell?
A: Even if you never spill anything in your oven, vapours will cause the interior of your oven to become quite greasy and sticky. If not cleaned, this buildup can smell pretty bad when you turn your oven on. If you notice smells like burning rubber or plastic, turn your oven off and call a technician.
Q: Can I still use my oven if it's not working properly?
A: If your oven is getting too hot, your food will probably burn. If your oven is not getting hot enough, your food will not cook. Apart from this, any fault with your oven can present a fire risk. All the more reason to wait until the repairs are complete.
Q: About how long is it going to take to fix my oven?
A: It's impossible to tell you exactly how much time our technicians will require to fix your appliance (just because every project is an entirely different animal all unto itself). However, our technicians will work as quickly as possible to get your oven back up and running before the end of the day!
Q: How can I be sure the right professionals are coming out to help me?
A: We can tell you with full confidence that every single one of the professional technicians we send out from our operation here at Max Appliance Repair are going to have all of the skills, all of the talent, all of the training, and all of the tools necessary to tackle any specific job and fix any specific problem they may come across.
Q: How do I fix my oven door?
A: We recommend you to not do this by yourself to ensure your safety and prevent further damage to your appliance. Oven door hinges are sensitive and require proper tools and expertise. Therefore, consult an appliance expert to fix the oven doors.
Q: How much does it cost to fix oven?
It totally depends on the nature of repairs. Some fixes are easy and less time-consuming. However, if the coil or fuse is to be fixed it might involve dismantling the appliance and fitting new parts. This might cost more than easy fixes. To really know how much your over repair is going to cost, we will need to assess the nature of the issue and give you cost estimates for the fixes.
Home Appliances Brands We Repair
Our team can work on any appliance from any of the major brands. From Miele and Inglis to Bosch and AEG, we can work on it. Here are the appliance brands we can repair:
Testimonials From Our Customers