Source of Bad Odor
Residual buildup is the most common cause of bad smell. This type of buildup can contain a lot of materials. From dust, dirt and grime to the traces of cleaning agents and water softeners. If you use a fabric softener then that too can leave traces. The more ingredients you use or put into your washer to clean your clothes, the higher are the chances of the appliance developing a strong odor. These odors can become unpleasant due to lack of cleaning and drying. Washers must be wet cleaned and dried appropriately, preferably sooner than later.
A washer is supposed to get rid of all the dirty lathered water during the routine draining process after every wash cycle. If the washer is not draining properly, then you would have double trouble. First, water standing at the bottom of the washer would begin to smell. Second, there would be residual buildup, which will smell sooner since water would only enhance the growth of microbes. The standing water would also retain more oil and other forms of grease.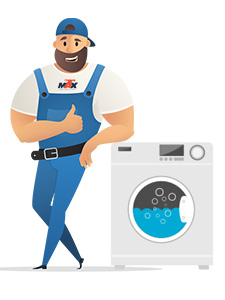 Whether it is water or material buildup, you must address the problem immediately. Drainage issues should be looked into. You must clear all blockages inside the appliance. You must check the main drain, and the hose of the washer connecting to the plumbing system. Blockages anywhere in the connected system can be an issue. These could contribute to the foul odor. You may also consider changing your detergent, water and fabric softeners, and other cleaning materials you use.
Our technicians will inspect the entire appliance and detect all prevailing problems. We offer holistic washer repair in Ottawa.
Call our team at (613) 518-2177 for expert appliance repairs.