GET A QUOTE NOW:
---
Fridge Repair Frequently Asked Questions
A faulty fridge requires urgent repairs. Any delays can result in a large amount of food going bad and, replacing all that food can be quite costly. Here are a few commonly asked questions regarding fridge repairs and useful answers.
Q: Why is my fridge not running?
A: Check the power supply and the power outlet. If both are working, then the problem could be with any of the working parts such as the motor. It is best to call a professional for assistance.
Q: Why is my fridge making a strange noise?
A: Some noises are normal when your fridge is running. However, if your fridge starts making a strange noise or suddenly becomes noisier than usual, it would be best to contact a technician sooner rather than later.
Q: What's that puddle under my fridge?
A: Condensation will form inside your fridge no matter what you do. Your refrigerator does, however, have a special outlet and there is a pan under the fridge that collects this water. If the drainage system becomes blocked, this can cause condensation to find another way out instead. This is why regular cleaning is so important. If the drain is clear and the pan is empty but the leak persists, contact a repair technician.
Dryer Repair Frequently Asked Questions
Dryers are also essential in Gloucester homes. Here are some common questions and answers relating to dryer repairs. On the off chance that you have more questions, you are welcome to get in touch with us.
Q: Do I really need to clean out the lint every time?
A: The expression Better Safe than Sorry is so true when it comes to dryer care and maintenance. It is better to clean out a little bit of lint every time you use your dryer than wait for it to accumulate and risk a fire.
Q: Why won't my dryer tumble?
A: The drum inside your dryer is supposed to tumble and toss your laundry around. However, when the drum does not move, it could be due to a motor or other mechanical issue. It is best to avoid using your dryer until a repair technician has fixed the problem.
Q: Why is my dryer getting so hot?
A: Your dryer has multiple settings and it's best to check the current setting before you start to worry. If you set it on the lowest setting and it still gets extremely hot, there could be a problem with the thermostat or similar inner parts. Avoid using your dryer since you will only ruin your clothes and you could even cause more damage. Call a specialist right away.
Washer Repair Frequently Asked Questions
Your washer works hard each time you use it. It should not shock anyone that this appliance requires repairs every once in a while. Read these FAQs and, in the event that you have some other inquiries, our team will gladly help.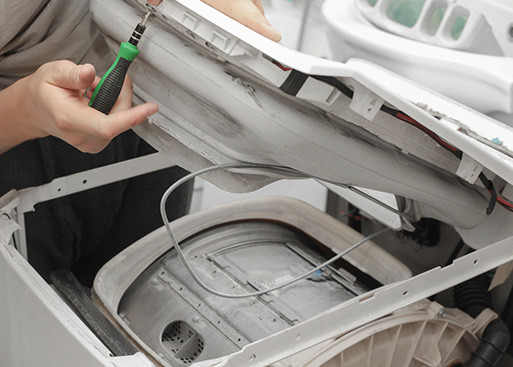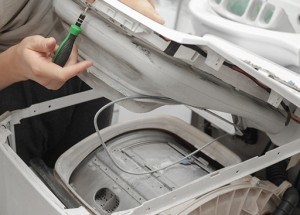 Q: My laundry is not coming out clean, why?
A: There are a number of possible reasons for this and the solution might even be as simple as changing your laundry detergent. The amount of detergent you use will depend on your water. Harder water requires a bit extra soap. If you are overloading your washer it could also result in poorly washed clothing. Similarly, if you are using a quick wash cycle, it might not be sufficient for cleaning everything thoroughly – especially if you fill your washer to the brim!
Q: Why does my washer fail to complete a wash cycle?
A: Your washer needs to fill with water, add detergent, wash, rinse, and spin. Sometimes, some of these steps are repeated. However, if your washer skips a step or fails to complete a wash cycle, there could be a faulty part or an electronic problem. The only way to know for sure is by calling an expert.
Q: Why is my washer leaking?
A: Since your washer relies on water to clean all your laundry, a leak can be extremely stressful. Even if it's a small leak, your faulty washer can cause some serious damage. It is a good idea to test and inspect all of the in and outgoing water pipes. If they are worn, broken, or damaged, they will need to be replaced. If there is no obvious damage, call a professional to inspect inside your washer.
Stove Repair Frequently Asked Questions
If your stove breaks, quick repairs are obviously important, and you can depend on Max Appliance Repair to take care of business. Here some common questions and answers.
Q:Why won't my gas stove ignite?
A: Your gas stove relies on a spark to get that flame going. If there is a problem with the ignition, it won't light – of course. That said, if you can see a spark but your stove won't work, it could be because there is no gas. Test the flow of gas. You should be able to hear and smell it. There is no need to test for too long. A couple of seconds will suffice. Remember, for safety reasons, it's best to contact a professional for stove repairs.
Q: Why can't I regulate the temperature of my electric stove?
A: Sometimes this problem is caused by something very simple like the knob that is associated with that particular burner. There are, however, some other more complex problems that a technician will be able to diagnose. If the problem only affects one burner, it's best to avoid using that burner until the technician has fixed the problem. If several or all burners are affected, avoid cooking on your stove until it has been repaired.
Q: Why isn't my stove getting hot?
A: If your stove is turning on but not getting hot enough, there could be a thermostat problem. Alternatively, if your stove is not turning on at all, it could be due to a lack of gas or electricity (depending on the type of stove you are using). Check the power supply or gas supply before calling a technician.
Oven Repair Frequently Asked Questions
Like your stove, your oven is another fundamental appliance, and you may have a couple of oven repair questions. Here are some FAQs and answers.
Q: Why is my oven burning food?
A: Once you set the temperature on your oven, you most likely expect it to maintain that temperature. If your food is burning rather than cooking, your oven might be getting too hot. There could be a problem with the thermostat. These problems are best diagnosed and repaired by a professional.
Q: Why is my oven not turning on?
A: Depending on the type of oven, you will need to check your power or gas supply. If there is no problem in this area, then a number of reasons could be behind this common failure. Contact your local appliance repair service for expert assistance.
Q: What's that smell coming from my oven?
A: When cooking, no matter how careful you are, your oven is bound to get dirty. If not cleaned regularly, this build-up of grime and dirt can smell pretty bad when you heat up or use your oven. If you smell something like melting plastic or rubber, you should have a professional take a look.
Dishwasher Repair Frequently Asked Questions
We understand the inner workings of different brands and models of dishwashers. Our experience and training enable our technicians to work rapidly to determine issues. Read the FAQs that follow and don't hesitate to get in touch with us should you have some other questions.
Q: Why is my dishwasher is leaving spots on my dishes?
A: Hard water can cause your dishes to come out less than perfect. Water softening products can help as well as choosing the right type of detergent.
Q:Why is my dishwasher leaking?
A: Like some other appliances, your dishwasher uses a fair amount of water. If you notice a leak, it would be a good idea to inspect all tubes and hoses. If they are loose, damaged, or worn, it could be the reason behind the leak. If not, a technician will be able to inspect other more intricate possibilities.
Q: What's the strange noise coming from my dishwasher?
A: Your dishwasher will never be completely silent but, if you notice a loud or unusual noise, it could be cause for concern. If a dish breaks inside your dishwasher, a piece could get stuck.
Neighborhoods We Serve in Gloucester
Beacon Hill
Blackburn Hamlet
Blossom Park
Carlsbad Springs
Carson Grove
Cedardale
Chapel Hill
Chateau Neuf
Convent Glen
Cyrville
Edwards
Elizabeth Park
Ficko
Findlay Creek
Hiawatha Park
Honey Gables
Johnston Corners
Kempark
Leitrim
Limebank
Pineview
Piperville
Ramsayville
Riverside South
Rothwell Heights
Victory Hill
Windsor Park Village