GET A QUOTE NOW:
---
Fridge Repair Frequently Asked Questions
When your fridge breaks down, repairs are urgent if you don't want your food to go bad. Here are some common fridge repair questions and answers.
Q: Why has my fridge stopped running?
A: The first thing to check is your power supply and the power outlet. If there is no trouble with your power or the outlet, then the problem could be electronic or even mechanical.Contact a professional right away for urgent fridge repairs.
Q: What's that noise coming from my fridge?
A: No fridge is perfectly silent unless it's not running. There are a number of normal sounds that you are bound to hear even if your fridge is new. If you notice a strange or particularly loud noise, it is best to have a technician check your fridge before any further damage may occur.
Q: Why is there water leaking from my fridge?
A: No matter what you do, condensation will form inside your fridge. Since this is inevitable, fridge manufacturers have allowed water to escape via a special drainage system. If this drain becomes clogged or if the tube breaks, it can result in a puddle on the floor.
Dryer Repair Frequently Asked Questions
Dryers are also extremely essential in any home. Here are a few commonly asked questions and answers.
If you have any other questions, you are welcome to contact us.
Q: Does the lint trap on my dryer need to be cleaned before each use?
A: When it comes to the lint trap in your dryer, you cannot be sure how full it is unless you open it. Some clothes leave more lint than others and, when the lint builds up, it can be a serious fire risk. It is always best to clean before each use.
Q: Why won't my dryer turn?
A: As your dryer warms up, it also turns to allow the warm is to be evenly distributed around the clothing and in between. If your dryer is not turning, there could be a problem with one or more of the working parts. It's best to avoid using your dryer and have a technician diagnose and repair the issue promptly.
Q: Why is my dryer getting too hot?
A: There are several temperature settings from which you can choose when using your dryer. If you have set it to a moderate or low temperature and it is still getting extremely hot, this could indicate a problem with the thermostat. Have a technician repair this problem before you use your dryer again.
Washer Repair Frequently Asked Questions
Your washer works hard every time you select a wash cycle. It should come as no surprise that this appliance requires repairs from time to time. Read the following FAQs and, if you have any other questions, our team will be more than happy to assist.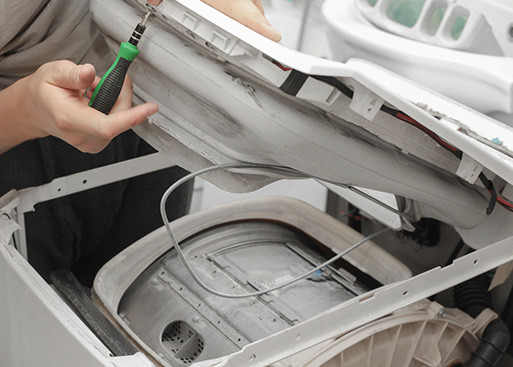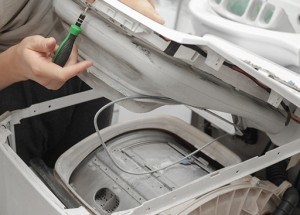 Q: Why is my washer not cleaning my clothes properly?
A: This is a common problem and can be caused by a number of factors. Firstly, if you overload your washer, it might not be able to work as effectively. Secondly, if you are using the wrong detergent or the wrong amount of detergent, it can also affect the results. Finally, if you select a speedy or short wash cycle, it might not be enough to get all that dirt out. Make sure that you choose the appropriate cycle based on the amount of laundry and how dirty everything is.
Q: Why is my washer not completing its wash cycle?
A: There are several steps in the washing process and, if your washer is stopping during one of these steps, it could indicate a minor or serious problem. The stage at which the washer stops will be your first hint regarding the cause of the error. For example, if your wash does not fill with water, it could be something as simple as a lack of water supply. On the other hand, if your washer does not drain, it could be due to a faulty pump. Give as much detail to the technician and allow them to diagnose the problem.
Q: What's causing the leak on my washer?
A: Your washer relies on a consistent water supply in order to wash and rinse effectively. If you notice water around the base of your washer, you should check all of the hoses. If there are no leaky hoses or bad connections, call your local washer repair service to investigate further and perform the necessary repairs.
Oven Repair Frequently Asked Questions
When your oven breaks, fast repairs are essential, and you can rely on Max Appliance Repair to get the job done. Here are a few common questions regarding oven repairs.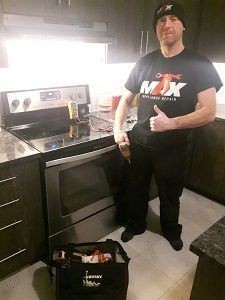 Q:Why is food burning in my oven?
A: If you select a medium or low temperature in your oven yet your food is still burning in record time, you might want to hold off on baking or roasting for now! The cause of this problem will depend on the type of oven you own and it's always a good idea to have a skilled technician take a look rather than attempting repairs yourself.
Q: Why is my oven not working?
A: If your oven will not turn on at all, the cause will depend on the type of oven you are using. A gas oven relies on gas while electric ovens rely on electricity. Check your gas or electricity supply before you call a technician. If this is not the cause of the issue, contact a professional to take a look and perform repairs.
Q: Why does my oven smell strange?
A: Even if you never spill a single drop or crumb inside your oven, the vapors that form during cooking will still coat the interior. After time, this greasy coating builds up and eventually, you might notice an odd smell like something is burning. This is why it is so important to keep your oven clean. If you notice the smell of melting rubber or plastic, it's often best to turn your oven off and call a technician.
Stove Repair Frequently Asked Questions
Like your oven, your stove is another essential appliance, and you may have a few questions related to stove repairs. Here are a few FAQs and helpful answers.
Q: Why is my gas stove not igniting?
A: There are two main possible causes for this problem. Firstly, if you are out of gas or if your gas supply has been interrupted, you can expect your stove not to ignite. Alternatively, if there is no spark when you try to ignite the flame, you won't have much luck cooking. It's important to remember that stoves are best repaired by professionals due to safety concerns.
Q: Why doesn't my electric stove maintain a certain temperature?
A: This issue could be caused by a simple faulty knob or there could be an electrical issue. Check all of your burners to determine whether the problem is isolated to one or more. Call a technician to further diagnose the cause of this problem.
Q: Why is my stove not getting hot?
A: If your stove turns on but does not get particularly hot, there could be an issue with the thermostat or other parts relating to temperature control. Check your stove to determine whether one or all burners are affected by this problem before contacting your local stove repair expert.
Dishwasher Repair Frequently Asked Questions
We are familiar with various brands and models of dishwashers. Our experience and training allow our team to work quickly to resolve problems. Read the FAQs below and feel free to contact us should you have any other questions.
Q: Why are there spots on my dishes?
A: This is often caused by hard water and you can use special products to soften the water and prevent water spots. If your dishes are not coming out clean, there could be a problem with your sprayer arms or there might be some kind of blockage or build up of food and debris.
Q:Why is there water coming out of my dishwasher?
A: The hoses and tubes that are connected to your dishwasher are responsible for allowing water to enter and leave the appliance. If any of these tubes are worn or if there is a poor connection, it can result in a pretty large puddle on the floor. If none of the tubes show signs of leaking, call a technician to diagnose and repair this problem.
Q: Why is my dishwasher making a strange noise?
A: Like many other appliances, your dishwasher is by no means silent. That said, if you notice a sudden strange or loud noise, this could indicate a problem. The causes vary from built-up debris to improperly loaded dishwashers and even damaged sprayer arms that end up brushing up against various parts or even dishes.
Neighborhoods We Serve in Kanata
Beaverbrook
Bridlewood
Glen Cairn
Harwood Plains
Katimavik-Hazeldean
Lakeside
Malwood
Marchhurst
Marchwood
Morgan's Grant
South March
Strathearn