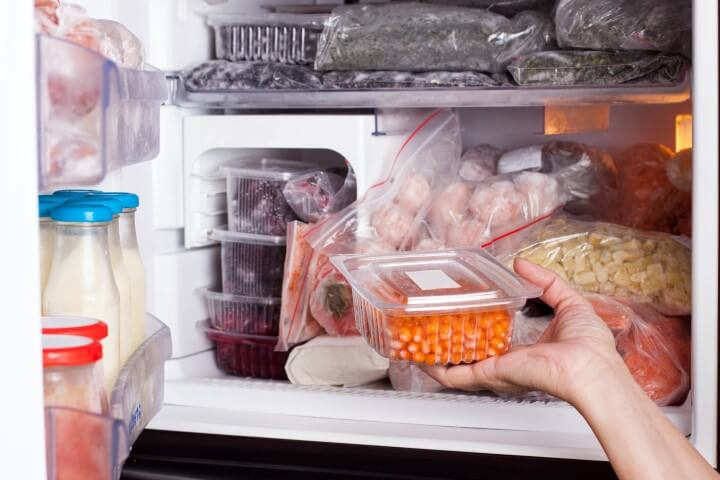 How Can I Maintain my Freezer?
Whether your fridge and freezer are combined in a single unit or you have two separate appliances, it is important to follow the appropriate maintenance schedule in order to ensure that you keep your freezer running smoothly. Regular cleaning and maintenance is the best preventive approach.
Interior Cleaning
When cleaning the interior of your freezer, you do not necessarily need to turn it off. In fact, it can result in greater energy consumption if you do. A better approach is to remove all of your freezer drawers with the food inside them and place them in a cool area. Wipe down the interior of your freezer thoroughly and with care. Avoid scraping and do not use harsh chemicals. Regular dish soap is ideal. Make sure that you wipe clean with fresh water and dry the panels as much as possible to prevent ice from building up along the sides of your freezer.
Wipe The Gasket(s)
The gaskets that line your freezer will get dirty. Whether food falls into the grooves or dust and grime simply finds its way into these spaces, there's nothing you can do to prevent it. You can, however, clean the gaskets regularly to prevent excessive build up and damage. A soft toothbrush usually works well. Again you can use some mild dish soap to loosen more stubborn dirt and finish it all off by wiping it all away with clean water.
Check The Drawers
While you have all of your freezer drawers removed, it's time to do a little organising. We all know how food can somehow find its way out of the bags and all over the freezer so you may find all sorts of frozen veg here and there. Take one draw at a time, remove the food and give it a good clean. Dry the drawer, place the food back and put the drawer back into your freezer. Remember, this is a great time to look for any old food that is better tossed than cooked. Remember, different drawers are designed for different types of food. Check your user manual to ensure that you are using each drawer appropriately. If you notice any odours, you can always use baking soda to absorb unpleasant smells.
Condenser Coils
Whether they are located on the back, bottom or top of your appliance, the condenser coils need to be cleaned at least once a year for good measure. Dust and grime builds up on these coils because they are warm and dust is attracted to warmth. Unfortunately, as the dust builds up on the coils, it makes it more difficult for them to release heat and this makes it tougher on the other working parts of your freezer. By cleaning them regularly, you will help extend the life of your appliance. Another great tip to remember, for coils located on the back of the appliance, is that there should always be about one inch of space between the coils and the wall to allow air to flow freely.
Check The Temperature
If you set your freezer to a very low temperature, it will make the appliance work much harder than need be. The harder it works, the faster the working parts will become worn and the sooner you will notice a problem. If you are not sure whether or not your freezer is too cold, there is a little trick that you can use to test the temperature. Place a cup of vegetable oil with a thermometer in it in the freezer overnight. If your freezer is too cold or too warm, you should try adjusting the temperature setting first. If your freezer is still too warm despite lowering the temperature, you should test the seal on the door. Place a dollar bill in the door and close it. Now try to remove the dollar bill without opening the door. If it comes out easily, the seal is not as firm as it should be and you might need to have the gasket replaced.
These tips will help you identify problems before they have a serious effect on your appliance. If you notice any problems with your freezer, remember Max Appliance Repair Ottawa is just a phone call away at (613) 518-2177.