Initial Basic Checks
You must begin with the temperature setting, or regulator, the vent, and the defrost drain hose. If the freezer temperature is set to be too low, and there isn't enough food stocked, then ice buildup may happen. But, the more likely cause is a clogged vent or blocked defrost drain hose. Vents can get clogged due to debris. Defrost drain hose may be frozen, or it could have food debris and grime buildup. Unclogging these crucial parts of the freezer will solve the problem.
Serious Causes of Ice Buildup
There are several probable causes of ice buildup that can be classified as serious. These include a broken thermostat, malfunctioning sensor, defective evaporator fan, compressor not working, condenser coils requiring replacement, coolant leak, or depletion, and a combination of these if your appliance is considerably old. Most of these problems call for a replacement of the damaged or broken parts. Some worn-out components may be restored with timely freezer repair by our technicians.
Temporary Ice Buildup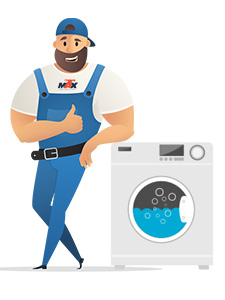 If you have a recurring ice buildup problem or the problem persists, then the broken parts are to blame. If you have a temporary or transient problem, then there could be some inadvertent errors on your part. You should not place hot food and humid packets straight into the freezer. Let the items attain room temperature. You may also place them in the fridge and then transfer them to the freezer later. How you load your stock in the freezer can also lead to ice buildup. If the vents get blocked and if the airflow or circulation is obstructed, then you may have ice buildup at certain places.
Call our team at (613) 518-2177 for expert appliance repairs.