Causes of Incomplete Cycle
A dryer needs all the components to function as they should, when they are intended to, for a cycle to be complete as expected. Any wrong trigger, activation or deactivation, interruption or failure of one or more components can stop the cycle. It is also possible for a cycle to be completed wherein a part of the crucial drying phase has been basically ineffective. Power outage and voltage fluctuation can be readily checked. These are not issues pertaining to the appliance.
A blown fuse should be fixed. A tripped circuit breaker should be restored. A damaged sensor must be replaced. If the door switch fails during a cycle, then the dryer would stop. The same would be the consequence if the timer fails. The door switch closes the circuit. The timer and the sensor influence the heating element to remain operational. The supporting mechanical components keep the spin cycle going for the intended period of time. Any of these components being inefficient, ineffective, or failing, should be tested.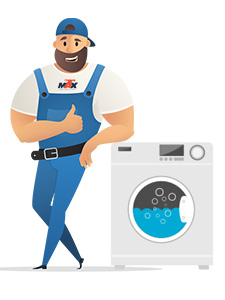 Ensure you have not overloaded the dryer. Check for physical blockage or obstructions in the vents, lint trap, and the outlets. Clogged outlets or inlets can stop the cycle. Check for overheating. A dryer can get overheated, which could be due to a malfunctioning sensor, timer, or heating element. Excessive load can also lead to overheating. If any of the mechanical parts are not working perfectly, if the electrical components are faulty, and if the electronic features are defective, then the dryer will stop or not complete a cycle.
Our technicians can inspect all these common and relatively rare problems, complete onsite dryer repair, and replace broken components on the same day.
Call our team at (613) 518-2177 for expert appliance repairs.