Blown Thermal Fuse
All major household appliances have a built-in fuse. Your dryer may have a fuse or a circuit breaker. The former could be blown. The latter may be tripped. You must restore the fuse or circuit breaker for the dryer to start. If these are fine, move on to the next checkpoint.
Unresponsive Start Switch
The start switch may be unresponsive. This could be due to a connectivity issue. If you have a multimeter, you can check for continuity problems. The start switch may also be broken. It needs to be replaced. The real problem could be the switch itself, the sensor, or the control panel for users.
Failing Door Switch
A dryer will not start if the door doesn't lock and its latch, also serving as a switch, fails to complete the circuit. Door switches can fail. It could be completely broken, or malfunctioning for some reason. Our technician can inspect this, and replace a faulty or broken door switch on the spot. An easy way to tell if the door switch is broken is to keep an ear out for the click sound when you close the lid.
Broken Drive Motor or Belt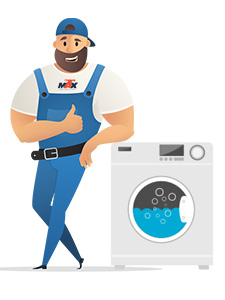 The motor, belt, and other crucial components in a dryer must be in optimum working condition for the appliance to start. If your dryer won't turn on and the aforementioned issues are not the problem, then you must inspect the drive motor, belt and other associated components. Our technicians can replace these broken parts during onsite dryer repair in Ottawa.
Call our team at (613) 518-2177 for expert appliance repairs.