Dryer is Overloaded
Anyone can make this inadvertent error. Overloading a dryer will increase the time it requires to properly dry the clothes. Avoid overloading, not only because of the longer session but also to keep the appliance safe, and efficient. An overloaded dryer will get excessively hot. There would be adverse effects on several crucial parts or components of the appliance. Excessive overloading and hence overheating increase the chances of a fire.
Lint Trap is Clogged
Check if the lint trap or filter has some kind of blockage. The lint trap is supposed to have some debris buildup, but only to an extent. If it is completely blocked, then the dryer will take long to dry clothes. Clean the lint trap. This should be a routine exercise. Do not wait for a dryer to be inefficient or ineffective in any way before you clean the appliance. A broken lint trap must be replaced immediately.
Air Flow ; Vent Issues
Obstructed airflow, poor circulation of heat, blocked vent, and other such issues would lead to a much longer cycle, even for an optimum load. A dryer should be timely cleaned and maintained. Preventive maintenance is recommended for older dryers. Along with the inlets and vents, the outlet valve should also be checked. If it causes an obstruction, then a dryer takes long to dry clothes.
Failing Components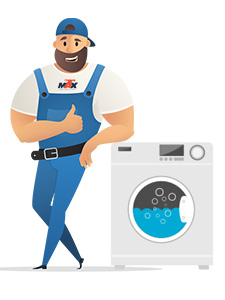 If any of the crucial components responsible for drying is failing, then a dryer takes long to dry clothes properly. These elements are the heating element, the thermostat, the heat sensor, the timer, the motor, the fan, the drum and its related components, the central control board, the user panel, the door switch or lid latch, the thermal fuse or circuit breaker, and others.
Call our team at (613) 518-2177 for expert appliance repairs.